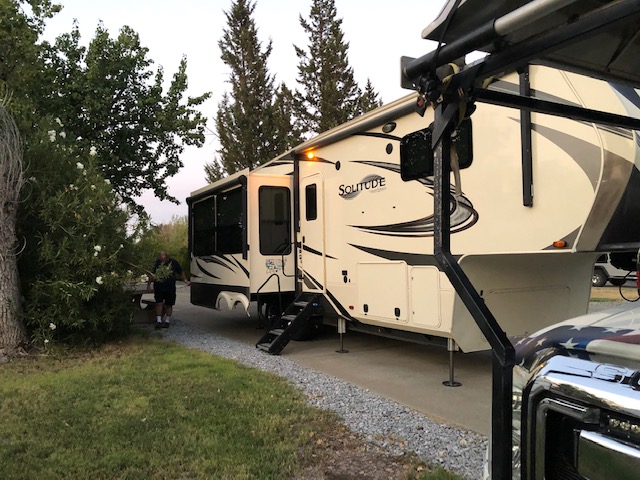 JGW RV Park, Redding, California
Although we spend a lot of time in Redding as my parents live there, this is the first time that we have stayed in an RV park there.
We can usually park our rig on their property, however, on this trip, the temperatures had been up to 115 degrees (gotta love September in the valley..not!), and they don't have hookups for us to run our a/c.
So we decided to stay in town.  JGW RV Park has been recommended on Facebook groups I belong to, and my parents stayed there years ago when evacuated from a fire.  So we choose this park.
JGW RV Park
The park is nice and right on the river.  In fact, you can request a river site – at a higher price of course.  Those sites looked nice.
Even though it's close to the freeway, the noise was not an issue.  The park is down a long frontage road, but it is well-marked.
JGW RV Park is 32 acres, and very clean.  The site was plenty big for us.  The staff was nice when we checked in.  The park has full hookups, a pool, and wifi.  And the rates are very reasonable.
The park itself is a bit remote – there are not a lot of places to shop within a few miles. So plan on unhooking to drive somewhere or bring what you need.  If we need to stay in town again, we will definitely stay there again.
Redding
The town of Redding has a lot to see and do.  You can take a stroll on the Sundial Bridge and visit the Turtle Bay museum, and visit shops in Redding and Anderson, making it the perfect place to spend a weekend or longer.
Whether you're looking for an outdoor adventure or a chance to relax and enjoy the scenery, Redding has something for everyone.
With its many rivers, mountains, and valleys, there is something for everyone to do. Hiking, camping, fishing, and kayaking are just some of the activities that can be done in the great outdoors.  The Shasta Cascade region is the gateway to outdoor adventure!  Mountains, pristine lakes and rivers, cascading waterfalls – the opportunities are endless!
Visitors can explore the local history at the Old Shasta State Historic Park, go for a hike in the Whiskeytown-Shasta-Trinity National Recreation Area.
Shasta Lake is nearby, and Shasta Dam.  And the Lake Shasta Caverns are about 19 miles north of Redding.
Lassen Park is a day trip.  Another day trip could be to Burney Falls.  Also, Mount Shasta is just over an hour away.  Or drive to Mcloud to check out the quaint shopping area.  Castle Craigs state park.  There is so much to see and do in the area!
No matter what kind of adventure you're after, you'll find plenty of activities to enjoy in Redding!
Next stop – Oregon
What are your favorite things to see and do when in Redding?